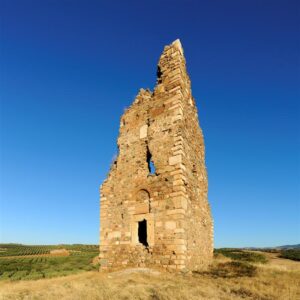 The tower of the Marianas is located 2 kilometers north of the archaeological site and the current settlement of Olynthos on the left side of the provincial road to Polygyros.
The tower was built in 1374 and was the center of the estate of the Monastery of Dochiareio.
It is one of the most beautiful examples of Byzantine towers in Halkidiki. For the construction of the stone wall from the adjacent quarry, a number of ceramics (characteristic of Byzantine masonry) as well as ancient architectural elements from the ruins of Olynthos were used.
Today it is preserved at a height of approximately 12 meters and 3 floors. (originally 15 m.) The entrance is 2 meters above the ground and was secured by a wooden ladder, which has not been saved. After the entrance there is a small vestibule and to the left a spiral staircase leading to the 1st floor.
The main area is roofed with a vaulted brick roof and was probably a tank.
The walls of the first floor are only partially preserved while the niches in them betray the existence of a chapel (common within the towers, if not the norm). From the second floor, only a small part of its lower walls is preserved.
In addition to the few marble sections (columns and pilasters) from ancient Olynthos, interesting elements in his masonry are a relief and 2 ceramic formations.
On the facade, also with the horns, a cross is formed and the abbreviation ΙC XC N K (Jesus Christ Victory).
On the southern wall we can also see the cross-gram of the Monastery of Dochiari formed with ceramics.
The tower of the Marianas served as a center of reference and defense of the estate of the monastery of Dochiari.
Built on a small hill, it overlooked the entire plain as far as the gulf of Kassandra, the bed of the Olynthos river, as well as the road that led from Northern Halkidiki to the Kassandra peninsula.