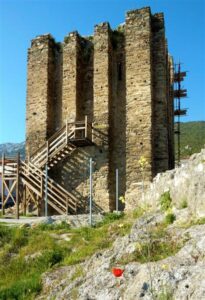 In the Byzantine years, there must have been a settlement called "Galatissa" in the place of the current village of Galatista and probably around the tower that is preserved today.
Identified with the place is the Byzantine tower. It is one of the best preserved towers of Halkidiki, of a fortification character.
Architecturally, it belongs to a large group of Byzantine four-sided towers, which are found in Macedonia and Mount Athos. These are known for the strong footings (buttresses) that strengthen their outer walls, and date from the 11th to the 16th century. The tower of Galatista has two building phases. The first phase includes its lower part and dates from the 11th century, while the second includes its upper part and dates from the 14th century.
The tower is preserved today at a height of sixteen meters but we know nothing about its upper part and consequently about its housing. Three floors are preserved from the entrance level and above as well as the basement. For the needs of daily life there was inside the tower a sink, sanitary facilities and probably some kind of kitchen. Finally, on the third floor, part of an alcove that may have belonged to a chapel is preserved.
The first fixing works were done in 1965 by the Archaeological Service. Many years later, in 1994, in the excavation carried out by the 10th Ephorate of Byzantine Antiquities, in the basement of the Tower, in the northwest corner, a built water tank was revealed. The movable finds of the excavation, several everyday vessels, coins, a bronze ring and several arrowheads date from the 11th to the 14th century.
In recent years, work has been carried out on the entire complex of the tower, which was completed in 2008. The upper water mill was restored and restored, a new roof was built that is not visible from the outside, so that the monument maintains its dilapidated image. The wooden elements of the tower were reconstructed: the floors and the staircase, the entrance door, the frames in the light slits and a new external staircase was made.
Around the monument there is a group of buildings (two watermills with water tanks, a rakario, an olive press), which together with the tower form a whole, which is connected to the productive activities of the inhabitants until recent years. Today inside it hosts the periodical exhibition on the theme "The towers of Halkidiki".